C.D. Hersh
Friday Features'
Guest talks about
Theme garden
by
Emma Lane
Theme gardens can be fun for adventurous gardeners who want to shake things up.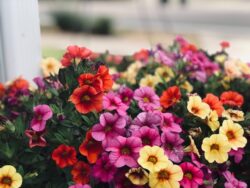 Photo by Emma Gossett on Unsplash
Colorfulannuals. Their raison d'etra, reason for living, is to bloom and make seeds. To keep them full of their bright and beautiful blossoms frequent culling of the old blooms is the secret. Paying attention to color combinations will enhance bedding petunias such as blue and yellow; red, white and blue; primary colors-red, yellow and blue; all pastels.
Perennials are friends forever. The trick here is to plant staggered bloomers. Daffodils and tulips for spring give way to lupine and peonies in April and May. June is for roses (and brides) and July owns lilies. Hibiscus and other members of the family (Rose of Sharon) for late summer, and we all appreciate summer's wind up with splashes of intensely…
View original post 517 more words